Some Various Uses of Die Cast Materials. The process of die casting involves the injection of molten metal into a die, which is a mold created of steel. This set-up is then subjected to high levels of pressure to create complex designs and structures. The subsequent parts are then used to serve as essential components of a bigger equipment. Die casting machines can range from 400 to 4,000 tons, but the machine size doesn't actually have anything to do with how a product will turn out. It will depend on the method used to die cast, which is either the hot chamber or the cold chamber method.
For those who are involved in businesses that require metal parts on a regular basis, it is significant to know that choosing the proper alloy is essential to ensure the stability and the durability of the assembled equipment. Depending on usage, some alloys are better suited than others. For example, the zinc alloy is recommended for use in sink faucets, aluminum is advisable for auto parts, and magnesium works well with electronic devices.
Kinetic Die Casting Company
(818-982-9200)
This company was established in 1994 and now are based in Los Angeles, California. To date, they have served a lot of industries that are in need of metal parts. Through the years they have constantly proven to their customers that they can be trusted with their work and service.
In getting a better idea where die cast materials are commonly used, here are some of the things we use that utilize die cast products:
Boxes made of Aluminum
Similarly entitled aluminum housings or aluminum enclosures, these are widely used because of their lighter weight compared to steel products. They can be effortlessly grounded and they are electrically conductive, and this is the reason computer and telecommunications companies are one of the chief customers of metal work businesses. Automobile companies also purchase aluminum housings for their motors and car transmissions.
Speaker Parts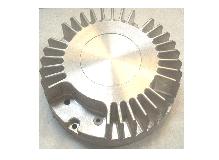 Aluminum and zinc die casting companies also produce metal parts for speakers. These are commonly derived from zinc and aluminum alloys. They make up the frames and the back cover of the speakers. In addition, die cast products are not only used in speakers, but they are also used in guitar amplifiers and other music equipment.
Lighting Fixture Parts
Regarding lighting fixtures, utilizing the aluminum metal is highly recommended because of its good thermal properties. Before die casting was used to create light fixtures, welding was the process they used to manufactured housing for lights. Many have found this to be labor intensive and expensive, plus the designs of the parts were narrow. Now, die casting allows the manufacturer to create designs based on the customer's taste. Certain examples of lighting parts include fixtures for airport runways lights, medical lights, and commercial lights.
Automotive Parts
Aluminum die casting can also be found in car parts. Die cast parts are used in aluminum wheels, engine blocks, brand logos, handles, mirrors, and clutches. If you need to save a little money, you can try communicating to the Kinetic Die Casting Company because they make parts that are suited for Chevrolet, Toyota, Nissan, Honda, and Jeep vehicles.

Like Kinetic Die Casting Company on FaceBook



This is the blog on the website for Kinetic Die Casting Company.


Call us and let us know if we can make parts for you 818-982-9200.
Kinetic Die Casting Company 6918 Beck Avenue North Hollywood California 91605
www.kineticdc.com #diecasting #kineticdc #manufacturing @kineticdc
Kineticdc makes:
Automotive Die Casting Parts
Light Fixture Die Casting Parts
Consumer Products Aluminum Parts
Aerospace Die Casting Parts
Military Die Casting Parts