Parting Line Flash on Die Casting Parts. What is Die Casting Parts Flash on the Parting Line?
Die Casting part tooling produces parts from two halves, (1.) the hot half and (2.) the ejector half.
Die Casting Mold Ejector Half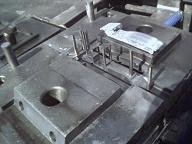 See more Tooling Information…. Click Here Die Casting Mold Ejector Half
Where these two halves meet is called the "parting line". The parting line on the die casting part is where most of the hand labor is expended. On occasion, parts need to be filed or sanded on the parting line. Many times, a trim die will cut the excess flash from the parting line like a cookie cutter.
Kinetic Die Casting Company produces many types of die casting parts. Most of these parts are cleaned by use of a trim die. The trim die can save as much as 15% of the part cost and reduce the part production time by half.
See our website:
Die Casting Tooling Pictures
Die Casting Tooling Types
Contact Kinetic Die Casting Company to purchase your die casting parts or die casting tooling.
Kinetic Die Casting, Inc.
6918 Beck Avenue,
North Hollywood, CA 91605
E-mail sales@kineticdc.com
Toll Free: (800) 524-8083
Local: (818) 982-9200
Kinetic Die Casting is a aluminum and zinc die casting company. If you would like to know more information, please visit our website:Kinetic Die Casting Company
b>"The Parts We Make Today, We Ship Today"
Kinetic Die Casting Company. Inc.

6918 Beck Avenue, North Hollywood,

California 91605, United States of America

E-mail sales@kineticdc.com

USA Toll Free: (800) 524-8083 Local: (818) 982-9200
To get prices for Die Casting Tooling Molds or Parts:

RFQ Die Casting Tooling Part Prices
Kinetic Die Casting Company makes: