MILITARY PARTS
Helmet Mount for Night Vision Goggles above on the left
was made using the Die Casting on the right.
Kinetic Die Casting is an American Die Casting Company that produces aluminum parts used by the United States Government as Military Parts. These military parts are used by most of the branches of our military in various contracts. Our customers buy aluminum die casting parts and produce completed military products. Our specialty is to produce these parts in less than a month of receipt of purchase order. We ship low quantities of less than 1,000 military parts in as little as two weeks, sometimes less. We will produce and ship fewer than 100 military parts if required.
Kinetic Die Casting will cast these military parts in aluminum, then trim the excess material, Impregnate the castings to seal porosity, zyglo inspection for defects, machine the parts to specifications, Chem-Film Alodine, Completely inspect to Part Blueprint, Provide a certificate of USA manufacture, Final Inspection then pack and ship the military parts. A more detailed listing of our Manufacturing Capabilities
Our Military Parts Supply customers to sell to:
United States Army
United States Navy
United States Air Force
Defense Logistics Agency
United States Special Operations Command
United States Transportation Command
Defense Advanced Research Projects Agency
Missile Defense Agency
Defense Information Systems Agency
Defense Finance and Accounting Service
Defense Commissary Agency
Kinetic Die Casting, Inc. Cage Code CAGE/NCAGE: 4ZQV3
The United States of America purchases billions of dollars in military contracts every year. Take a look at this web site to see the contract this year Military Industrial Complex. Some of these contracts require military parts that are aluminum die casting parts.
Armored Vehicle
Fire Suppression System Housing
This military part is an Enclosure Housing that supresses fires in Armored Vehicles. The fires are suppressed in 50 milliseconds and enables the driver and passengers in a tank to survive a direct hit in the fuel tank. Even their clothing does not get burned.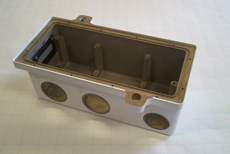 Other types of parts we produce. Military Parts, Commercial Parts, Auto Parts and Aircraft Parts: Pictures of Die Casting Parts.