Concrete Roofing Tiles
There are many styles of roof tiles for homes. Many times these styles are called flat profile rooftiles, low profile rooftiles and high profile rooftiles. Some are known as Mission Rooftiles, Villa Rooftiles, Slate Rooftiles, Shake Rooftiles, Roman Rooftiles, Double Roman Rooftiles, Estate S-Tile, Espania Rooftiles, Flat Rooftiles or Barrel Rooftiles.
Concrete Rooftile Mold Pictures.

Roofing Tile Molds
Aluminum Roofing Tile Molds are the molds that Roofingtile Companies use to make the concrete tiles for roofs on homes. They produce several thousand roof tiles a day using an extrusion process with a concrete slurry. Aluminum Roofing Tile Molds for Concrete Roofing Tile Industry also called Roofing Tilemolds, Tile Molds or Rooftile Plates are usually made in aluminum or steel. Aluminum roof tile molds weigh less and usually cost less than steel.

Concrete roofing tile machines
Concrete roofing tile machines make 1,000's of roofing tiles a day using these aluminum rooftile molds. They produce roofing tiles using an extrusion process with a concrete slurry that dries in kilns to produce a durable concrete roofing tile.

Most concrete rooftiles will last on a home over 50 years. Homes with concrete roof tiles are also more fire resistant.
Manufacturing Services We Provide:
Roofing Tile Mold production of 500-600 aluminum parts each day.

Free Samples of new Roofing tooling products.
Design assistance or Prototypes of Roofing Tile Molds styles.
Aluminum roofing tilemolds weigh 1/3 that of a steel part.


---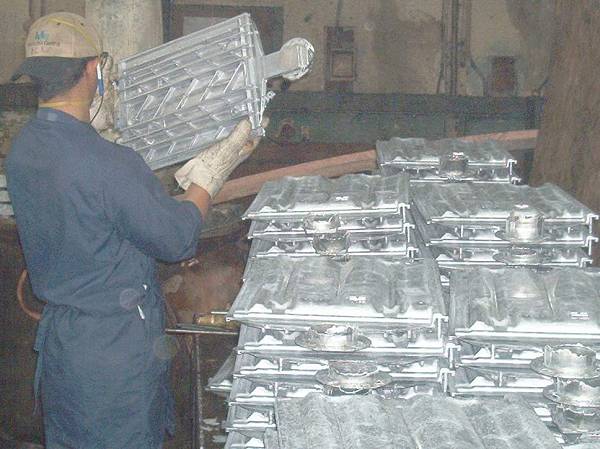 Roofing Tile Molds
---
Die Casting Parts and Aluminum Products
Die Casting Military Parts. Die Cast Heater Plates. Aluminum Heat Sinks Die Castings. Golfing Products. Cast Aluminum Golf Products. Aluminum Handle Hardware. Aluminum Chassis Castings. Cast Aluminum Parts for Music. Aluminum Hardware Brackets. Aluminum Automotive Parts. Cast Aluminum Lighting Parts. Aluminum Lighting Fixture Parts. Aluminum Speaker Parts. Roofing Tilemolds. Cast Aluminum Rooftile Molds. Aerospace Die Castings. Cast Aluminum Boxes. Aluminum Aircraft Parts. Die Casting Company. Images Pictures Die Cast Parts. Answers for Diecastings. Kinetic Die Casting Company Information. Die Casting Tools Molds . Kinetic Die Casting Company.