<!!-------------------------------------------------------------------------------------------Page Content-------------------------------------!!!>
Aluminum Audio Speakers
Kinetic Die Casting Company produces Audio Speaker Frame Die Castings and Audio Speaker Back Cover Die Castings for Audio Component Parts Companies.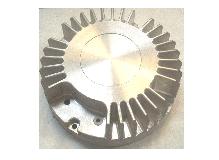 Radian Audio Components Manufacturing Company produces several types and sizes of audio components. We have been producing aluminum audio parts and zinc audio parts for them for over 10 years. In the year 2000, The Director of Engineering desperately needed 100 Audio Speaker Backcovers for a project in less than eight (8) weeks. Radian was making them using a CNC Machining Process but the process was slow and very expensive (About $150 each).
Radian Audio Backcover Project
Kinetic Die Casting Company made his 950 Audio Speaker Backcover tooling in less than six (6) weeks. We assisted with his part design and offered suggestions on which coating process would work the best for him. The cost to him was less than $10,000 for tooling and parts, saving him more than $5,000. He was very excited about the results of the project. So excited, he wrote us this letter:
"This letter is to thank you for your support and cooperation. During our recent new product project (950 Backcap), Kinetic Die Casting was extremely helpful in accelerating the tooling and delivery. You were able to assist me to fine tune the design to make the part more manufacturable and with less problems. you were quick to deliver pre-production samples for approval and delivered a casting on time and with Outstanding Quality"....Read more of the Radian Letter of Appreciation

- Don Scott, Director of Manufacturing and Ken Krenzelack, General Manager
As you can clearly see from the comments from our customers, we can help you with your back cover or audio speaker frame design and production manufacturing.
Kinetic Die Casting Company
(800) 524-8083