Die casting Parts are completely recyclable. Die Casting Parts have a Planet-Saving Value. These days, many manufacturers are turning to aluminum.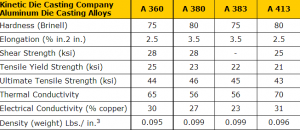 aluminum die casting alloys
Aluminum is a better material to provide their businesses with excellent products that can boost sales. Die casting aluminum is more than just an aluminum production means; it is considered both as an art and a craft.
Unlike plastic, aluminum alloys are completely recyclable. Aluminum is strong and does not deteriorate over time.
Permalink: https://www.kineticdiecasting.com/kdc/recycling-aluminum-die-castings/
The aluminum die casting alloys used in the aluminum die casting process offer designers that are concerned with post-consumer recyclable a highly favorable material option by way of the die cast parts' reuse feature. Die cast aluminum parts these days, as well as the entire die casting process itself, give product engineers the chance to create and develop aluminum designs that can save the environment. Thus, components in the die casting process are now made to maintain their integrity and quality through disassembly and the consequent tasks of repair, manufacturing, and reassembly – major options that were not available or possible in past years.
What does all this mean? It means that once the lives of die casting aluminum parts end, they are armed with the potential to return to usefulness by becoming part of some other industrial application, and an Kinetic Die Casting Company an aluminum die casting company can indeed help save the planet.
Kinetic Die Casting manufactures products like aluminum hardware, and aluminum boxes. If you would like more information on Kinetic Die Casting, please visit our website:Kinetic Die Casting Company
"The Parts We Make Today, We Ship Today"

Kineticdc makes:
Aluminum Heat Sinks
Automotive Die Casting Parts
Airplane Die Casting Parts
Light Fixture Die Casting Parts
Die Casting Aluminum Box Enclosures
Aerospace Die Casting Parts
Military Die Casting Parts
Die Casting Tooling
Kinetic Die Casting Company 6918 Beck Avenue, North Hollywood, California 91605 USA
E-mail sales@kineticdc.com Toll Free: (800) 524-8083 Local: (818) 982-9200 Fax: (818) 982-0877