There many advantages of aluminum military parts over plastic parts. Being in the military force is a life-threatening job. Together with this risk is the honor of saving one's territory, which is one of the reasons why a number of men choose this as their career path. However, their success does not depend on their skills alone. The equipment to be used should also be considered. Look at these Night Vision Goggles made by Kinetic Die Casting Company. We made over 200,000 sets of these aluminum military parts for our customer.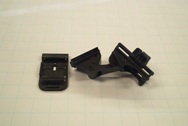 To help the military in fulfilling their goal, they should know the advantages of aluminum military parts over plastic military parts. Why? Plastic military parts may be cheaper, but it cannot match the advantages given by aluminum military parts. Aluminum military parts can withstand prolong stocking periods. When not in battle, the equipment tend to be stored in the barracks. Unfortunately, some of these fade quickly in terms of quality and usability. It is because some parts are made of a special plastic which is not capable of keeping its condition over time. Aluminum does this, even if exposed to strong chemicals. Moreover, plastic parts are highly vulnerable to damage due to strong impacts. For instance, a rifle had to be dropped. The damage it can give to an aluminum part would not be that severe, but it would be very different for a plastic military part.
These are only a few of the many advantages of aluminum die casting military parts over the plastic parts.
"The Parts We Make Today, We Ship Today"

Kineticdc makes:
What Are Die Casting Parts?
Die Casting Aluminum Heat Sinks
Aluminum Boxes Diecastings
Aluminum Parts or Plastic Parts
Kinetic Die Casting Company 6918 Beck Avenue, North Hollywood, California 91605 USA
E-mail sales@kineticdc.com Toll Free: (800) 524-8083 Local: (818) 982-9200 Fax: (818) 982-0877