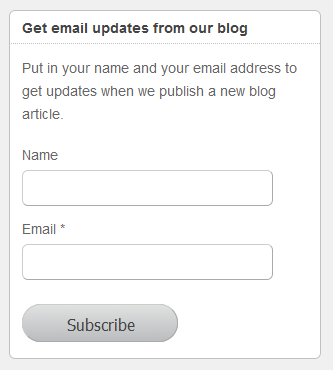 Kinetic Die Casting sends out a Company Email Newsletter from our die casting company blog
to our customers, friends, and other subscribers. This is a "Subscription Only Newsletter".
How do I sign up for this newsletter?

The newsletter is a "opt-in Newsletter". Go to our die casting blog (www.kineticdiecasting.com/kdc/) and look to the right sidebar for the sign up link.
Put your Name as you want to see it in the newsletter in the top location.
Put your valid Email * address in the bottom area.
Click the Subscribe button.
A confirmation email will be sent to your email address. Confirm by clicking the link sent to your email address.



Our Newsletter has various topics, such as:
Save money with die castings
Educational Topics (Money saving ideas)
Customer Success Stories / Customer tips
Kinetic Die Casting Company Updates and Discounts
Sign up to our email newsletter using the link on our blog. You will be able to safely unsubscribe anytime by sending an email to sales@kineticdc.com.
Your email address will never be shared or sold
(See Privacy Statement).
This email newsletter will give us a chance to send you information that is helpful to you and your company. Some of the tips will save your company money by informing you of ways to take advantage of the benefits of die castings.