I hope everyone had a great Thanksgiving holiday. Lots of food and desserts, what is not to love? I have another experience that I enjoy this time of year. I enjoy delivering holiday goodies.
My wife is an excellent pastry chef and candy maker (I know, I am lucky). She makes 100 dozen holiday cookies from old hand written Slovak family recipes. She and my children make about 100 pounds of Homemade Almond Roca. I get the pleasure of delivering those treats to friends and customers. If you received this email, you may be on the list to receive cookies or Almond Roca or both. Some people prefer the cookies and some people prefer the Roca.
She makes 11 or 12 different types of cookies. She will typically make 7 or 8 of those types and alternating them from year to year. A few of those types are favorites of our friends that she will make every year. Those are the Butter Nut Cookies (pictured), the Pecan Tassies (small pecan pies), Pecan Balls and her Nut Roll (pictured).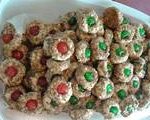 Red and Green Cookies
Here is a picture of "Butter Nut Cookies with Glazed Cherries".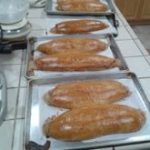 Putting cookies into Boxes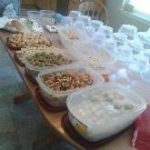 Many of our friends have a favorite cookie type. If you have a favorite cookie type, let me know.
Everyone loves getting the Almond Roca. There are only four ingredients: Chocolate, Almonds, Sugar and Butter. A simple recipe but it takes four days for each 10 pound batch of candy to cook, cool, roast, dip and roll, dry and package.


Homemade Almond Roca
I look forward to delivering these candy and cookie treats to you. I hope to see everyone over the next month, so I can say thank you for trusting Kinetic Die Casting Company to manufacture your die casting parts.
Permalink: https://www.kineticdiecasting.com/kdc/cookies-and-almond-roca-time-2016/