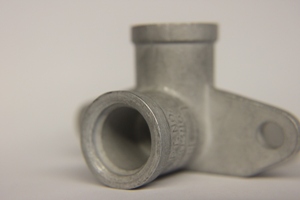 Kinetic Die Casting Company makes several types of Die Casting Aerospace Parts. These aerospace die casting parts are used for many types of purposes. Some of these parts are used on many types of aircraft, such as: airplanes, jet planes or helicopters.
Aircraft manufacturers typically specify aluminum die casting to make the aerospace parts because aluminum is lightweight and inexpensive as well as very strong.
Lightweight – Aluminum weighs only .098 pounds each cubic inch of material as compared to zinc which weighs about 2.44 pounds each cubic Inch.
Inexpensive – Aluminum is the third most common element on earth, so it is more available than other materials. Aluminum is used in over 80% of all die castings produced in the world.
Strong – Aluminum parts can be geometrically designed to be stronger than steel. Look up "aluminum is stronger than steel" on Google to see the results.
These aerospace parts range from: airplane engine piston heads, airplane distributor cap housings, fuel system parts, detention ring parts, cargo loading housings, lighting fixture parts, electronic enclosures, electronic housings, motor housings and various other aluminum die casting parts.
The companies that trust us to purchase their die casting parts from Kinetic Die Casting Company are many.
Here are a few of the aircraft and aerospace companies that we can name:
Robinson Helicopter
Ancra International
Whittaker Controls
AAR Cargo Systems
Boeing Aerospace
Barry Controls
Meggitt Aerospace
Parker Hannifin Aerospace Corporation (Parker FSD)
Circle Seal Aerospace
Kelly Aerospace
Curtiss Wright
Honeywell
United Technologies Aerospace
Low Quantities.
Many of these companies order lower quantities. One of the companies listed here will order less than 50 parts at a time. Many of these companies order 250 parts or less. Kinetic Die casting will accept any purchase order quantity.
Contact Kinetic Die Casting Company when you need any of the following: Low Quantities, Great Quality, Fast Delivery.
Kinetic Die Casting Company
6918 Beck Avenue
North Hollywood, CA 91605
E-mail sales@kineticdc.com

Aerospace Die Castings and Aircraft Die Castings
Die Casting Aerospace Parts
Airplane Die Casting Parts
Die Casting Aerospace Part Pictures
Airplane Die Casting Part Pictures
Kinetic Die Casting Company 6918 Beck Avenue, North Hollywood, California 91605 USA
E-mail sales@kineticdc.com Toll Free: (800) 524-8083 Local: (818) 982-9200 Fax: (818) 982-0877
Die Casting Aerospace Parts Prices