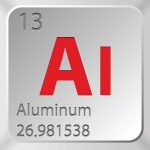 Aluminum (Al) is the most abundant mineral on Earth after oxygen and silicon and is the most abundant metal found naturally on Earth. It is present in 270 minerals. Aluminum is a silver, soft metal with an atomic number of thirteen and thirteen protons in the nucleus. It constitutes about eight percent of the Earth's land mass.
Aluminum (aka Aluminium) fun facts:
Caution – Iodine and Aluminum powder plus a few drops of water create: Clouds of toxic purple iodine vapor and a flame.
Recycling aluminum takes only 5 percent of the energy needed to extract new aluminum from ore.
Aluminum is globally the most used metal that does not contain iron.
Aluminum is almost always used as an alloy, even if the aluminum content is as high as 99%.
The most commonly used elements to combine with aluminum to create an alloy are zinc, copper, silicon, magnesium, and manganese.
This element is the second-most abundant metallic element in Earth's crust after silicon.
Aluminum is lightweight (a third the weight of steel or copper).
That Coke can: According to the Aluminum Association, an aluminum can takes 60 days to return as a new can after recycling.
Aluminum and its alloys are significantly used in the aerospace industry auto manufacturing and transportation, construction, packaging etc.
Aluminum is also used as a compound to manufacturing paints, antacids, deodorants and are also used as a catalyst in explosives (such as ammonium nitrate) to boost explosive capabilities.
Aluminum is a very reflective metal, which is very useful in home decor items such as aluminum blinds, aluminum fence, aluminum doors, aluminum windows etc.
Keep vinegar and bleach away from your aluminum products.
Aluminum parts when damp creates a white oxide that protects the aluminum surface but keeps paint from sticking.
Aluminum is incredibly flexible enough that it can be easily formed into the tiniest of items such as paper clips, dial gauges etc.
I hope you enjoyed these fun facts about aluminum. More than 90% of our die casting production is in aluminum alloy parts.
Permalink: https://www.kineticdiecasting.com/kdc/aluminum-aka-aluminium-fun-facts/
Sources:
http://www.livescience.com/28865-aluminum.html
http://www.softschools.com/facts/periodic_table/aluminium_facts/188/