Zinc Die Casting Tooling Facts. Zinc die casting tooling is a technique to form molten zinc into a shape using molds called dies or die casts. The tooling is the mold utilized in the procedure, and it is largely composed of a cover and ejector. The zinc is melted into molten form and then powerfully emptied into the cover die with the container bearing the wanted pattern. The melted zinc settles on the mold and toughens. Later, it is removed through the ejector. Die casts for zinc can have added features such as trim casts, inserts and multiple cavities reliant on what needs to be formed.
There is a request for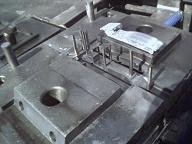 zinc die casting tooling because zinc has plenty of perfect characteristics:
It is very dense and does not take up much space related to other like materials
It is a sturdy and non-corrosive die casting alloy
It is extremely force-resistant
It is easily moldable into wires, thin walls and other complex designs
It can reach countless textures that other materials cannot attain
It takes lower heat to liquefy it for casting
It is the easiest material for die casting
It can remain malleable when melted for a long time
It can be added to other metals and elements to improve their condition
Zinc die cast tooling is made of tough materials to safeguard that the liquefied zinc will be correctly shaped into the anticipated form. There are likely mistakes in die casting such as porosity, uneven zinc distribution, etc. A great zinc die caster will be extremely cautious in following the normal guidelines so that quality zinc items are manufactured.
This is the blog on the Kinetic Die Casting Company web site. We make several types of Aluminum Handle Parts. Look at this website page for more details: www.kineticdiecasting.com/handle.html. Contact Kinetic Die Casting Company at 818-982-9200 or email us at sales@kineticdc.com. Use this webpage to request "die casting part prices" www.kineticdiecasting.com/replyform.html
Die Casting Tooling and Die Casting Molds
Die Casting Tooling Information
Tooling Used in Die Casting
Frequently Asked Die Casting Questions
Die Casting Tile Molds

Kinetic Die Casting Company 6918 Beck Avenue, North Hollywood, California 91605 USA
E-mail sales@kineticdc.com Toll Free: (800) 524-8083 Local: (818) 982-9200 Fax Number
Die Casting Tooling Prices