Kinetic Die Casting Company Makes Airplane Parts. Kinetic Die Casting Company or simply KDC is a Hollywood-based jobshop aluminum die cast business. Founded in 1994, it produces die casting parts for products of Original Equipment Manufacturers (OEM). KDC is an industry leader renowned for producing high quality die casting parts.
True to its commitment to excellence in its field, Kinetic Die Casting Company has been the preferred provider of various die casting products. Some of these are aluminum heat sinks, aluminum chassis castings, aluminum handle hardware, cast aluminum parts for music, aluminum automotive parts, aluminum lighting fixture parts, aluminum hardware brackets, aluminum speaker parts, and roofing tile molds.
In recent years, Kinetic Die Casting Company has also ventured into the manufacture and sale of airplane parts. Owing to its solid reputation, it has expanded its market to include the manufacture and sale of military aircraft parts that require aluminum die casting. Aluminum is a perfect material for airplane parts due to its being lightweight.
The process of making aluminum die casting parts for military aircraft is a rather complex one. It all starts with casting parts in aluminum. After a series of other complex processes, KDC issues a certificate of USA manufacture, subjects the die casted parts to a final inspection, and packs and ships the products to the respective US agencies that tap their service.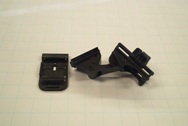 Other notable military products that use KDC-supplied die casting parts are helmet mount for night vision goggles, armored vehicle fire suppression system housing, and missile nose piece, to name a few. Indeed, Kinetic Die Casting Company has not only revitalized the American die casting industry – it has also become a vital force in the country's overall defense and security program because of its high quality products and services.
Do you need fast delivery for die casting parts? Kineticdc shipped die casting parts in less than two weeks from receipt of a purchase order. Know someone that wants to buy die cast parts and can use our die casting services?

Call us and let us know 818-982-9200.
Kinetic Die Casting Company 6918 Beck Avenue North Hollywood California 91605
www.kineticdc.com #diecasting #kineticdc #manufacturing @kineticdc #boxes #enclosures
Kineticdc makes:
Automotive Die Casting Parts
Light Fixture Die Casting Parts
Consumer Products Aluminum Parts
Aerospace Die Casting Parts
Military Die Casting Parts