Kinetic Die Casting Makes Aluminum Handle Hardware. Handle hardware refers to door and cabinet handles, which need to be able to withstand constant pushes and pulls. When it comes to handle hardware, aluminum is one of the best materials to use when manufacturing handles. Aluminum is strong, durable, and sturdy, and is perfect for ensuring that handle hardware will last despite long-term abuse. Additionally, aluminum is lightweight and cheap, so buying and installing aluminum handle hardware does not burn a hole in customers' pockets.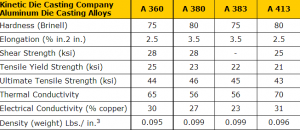 Die Casting Aluminum Alloys
Die casting is the best and most reliable method to quickly produce aluminum handle hardware in large quantities. The method involves creating a cast or a mold first to resemble the shape of the handle to be produced. Afterwards, the aluminum is subjected to intense heat so that it becomes liquid. The liquefied metal is then injected into the cast or mold for the aluminum to take the mold's shape. The mold with the aluminum is then cooled to let the liquid metal set and harden into the new shape. When the aluminum has hardened, the mold is then opened to reveal new aluminum handles. In North Hollywood, California, there is a company called the Kinetic Die Casting Company that specializes in various die-cast parts and products, such as automotive parts, enclosures and housings, aluminum lighting fixtures, and aluminum handle hardware. The company's website not only showcases its products but also has pages that explain what aluminum handle hardware parts are, what the advantages are of using aluminum for handles, and how to choose the right handle hardware.
To get a price for aluminum die casting parts or die casting tooling, call toll free 800-524-8083 and ask for sales. Or email us at sales@kineticdc.com for a fast response on a price quote.
Permalink: https://www.kineticdiecasting.com/kdc/kinetic-aluminum-handles/


---
Kinetic Die Casting utilizes die casting to manufacture parts like aluminum car parts, airplane parts, lighting parts and much, much more. If you would like to request a quote, please visit our website:Die Casting quote