Kinetic Die Casting Company was contacted by C&D Die Casting Company that was in Chatsworth California in November 2004 (History of Kineticdc). C&D was letting us know that many of their customers were needing aluminum die casting parts.
One of those customers was:
Continental Eagle Corporation (coneagle.com).
Postal Address: Post Office Box 1000 Prattville, Alabama 36067-1000 USA
Location Address: 201 Gin Shop Hill Road Prattville , Alabama 36067-1000 USA
Telephone: (334) 365-8811 Facsimile: (334) 361-7627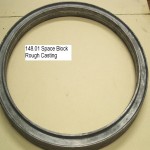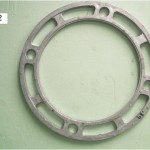 We produced many aluminum ring spacer parts made from aluminum die casting parts for Continental Eagle over the years since 2004.
Here is an excerpt from their website (coneagle.com): Continental Eagle Corporation, located in Prattville, Alabama U.S.A., manufactures and markets worldwide a premier line of cotton ginning, cotton processing and handling equipment. Continental Eagle has a complete network of sales and service facilities located throughout the United States cotton belt and in the cotton producing areas of the world. Since 1832, Continental Eagle has remained the world leader in the design and manufacture of machines and systems for fiber industries. Continental Eagle is certified in accordance with the International Standards Organization 9001 Quality Management System. Continental Eagle's IMPCO division, based in Prattville, Alabama manufactures machinery for the oilseeds processing industry.
Sadly, it seems that Continental Eagle is no longer in business. We still have the die casting tooling that makes the aluminum die casting spacer rings if anyone picks up the business and needs parts. We are saddened at the loss of another American business. Please contact us if you have any details for Continental Eagle Company.
Kinetic Die Casting Company
6918 Beck Avenue
North Hollywood, California 91605
818-982-9200
sales@kineticdc.com
#kineticdc #diecasting #manufacturing