New Job Application Form for Kinetic Die Casting Company – We have many positions open in our company (http://www.kineticdiecasting.com/employment.html).
Please fill out our job application to be considered for an open employment position.
It has always been difficult getting potential employees to compete our Kinetic Die Casting Job or Employment Application. We use a PDF file that is typically down loaded to the job candidates computer, then saved, then printed and then can be completed in pencil or pen. Sometimes, enterprising job seekers will use one of the many computer programs designed to edit PDF forms. They will then type in the information and then send the employment application back to Kinetic Die Casting Company. Some applicants scan the forms back in their computer and then email the job application to us at job@kineticdc.com. Sometimes they fax the application form to 818-982-0877. Or, mail the employment application to 6918 Beck Avenue, North Hollywood, CA 91605.
Now there is a new way to complete the job application: http://www.kineticdiecasting.com/application.php
Job candidates can now use their cell phone to complete our Online Job Application
This online employment application will save the job candidate's work information as an email that is automatically sent to Kinetic Die Casting Company.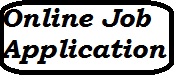 Online Job Application
Kinetic Die Casting Company
6918 Beck Avenue
North Hollywood, CA 91605
818-982-9200