Metal alloy die castings have several advantages over their plastic counterparts. Most manufacturers of automobiles, computers, aircraft and other modern devices have considered the use of die cast metal alloy parts for their final products. Plastic component parts only entertain a few parts in some of these industries. But how do die castings compare to plastic parts? This article will try to answer this question.
Comparing Die Casting Parts to Plastic Parts
https://www.kineticdiecasting.com/casting_metal.html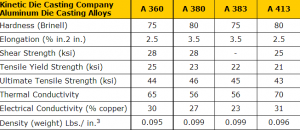 Die Casting Aluminum Alloys
Material Characteristics
Compare Polycarbonate to A380 Aluminum alloy

Characteristic


Polycarbonate

A380 Aluminum Metal

Tensile strength

55-75 MPa / 11 ksi

317 MPa / 46 ksi

Melting Temperature

267 C / 513 F

595 C / 1100 F

Density (weight) kg/m cube

1220 kg/m cube

2740 kg/m cube
A380 aluminum die casting alloy is the most common aluminum die casting alloy. It has a ultimate tensile strength of 317 MPa (46 ksi) Plastic is one the most common manufacturing materials that are utilized for various products. However, component parts that are fabricated from plastics are not as durable as the metal castings. Plastic has a tensile strength of 55-75 MPa (11 ksi) . If you are going to compare this to metal, particularly the cast aluminum, you will find out that plastic has great chances of incurring damages. Aside from this, plastic deteriorates rapidly when consistently exposed to heat. Plastic parts are only applicable for final products that do not require too much application of stress.
On the other hand, die cast metal parts are sturdier than plastics. Metal alloys are more resistant to harmful contaminants and extreme weather conditions. They can even bar the unwanted radio frequencies and electromagnetic emissions in some devices. Metal castings are also known to be good electrical conductors; meaning, they are ideal for housing electrical junctions because the metal surfaces can be easily grounded.
Permalink: https://www.kineticdiecasting.com/kdc/plastic-strength-or-castings/

"The Parts We Make Today, We Ship Today"
Kineticdc makes:
Die Casting Parts?
Die Casting Aluminum Heat Sinks
Aluminum Boxes Diecastings
Aluminum Parts or Plastic Parts
Kinetic Die Casting Company 6918 Beck Avenue, North Hollywood, California 91605 USA
E-mail sales@kineticdc.com Toll Free: (800) 524-8083 Local: (818) 982-9200 Fax: (818) 982-0877