Die Casting 101: What is a die casting draft angle? Die casting isn't really new. Engineers and manufacturers know the method of die casting metal products. It refers to the manufacturing of metallic parts and products in the process of injecting molten metal alloy inside a steel die. With high pressure and velocity, the molten metal is suppressed and solidifies into stronger metal parts used in many ways depending on what the product is created for (e.g. car parts, compartments, lighting fixtures, and so on). One might be wondering, "how can the molten metal, as it solidifies and stabilizes, not get stuck inside the die?" The answer is because of the draft angle.
What is a die casting draft angle? Draft angles are the narrow slopes merged in the surface of the area inside the die cast, usually identified on both the opening direction of the die and its sliding cores. What is a die casting draft angle for? To answer the question stated earlier, a draft angle is a factor of the process of die casting that enables the die cast product to be ejected in an easier way. Depending on what the product is, the proper measure of drafts should conform to the die cast product in order to support, both the surface of the die cast and the surface of the product inside.
Draft Angle on an Aluminum Box Enclosure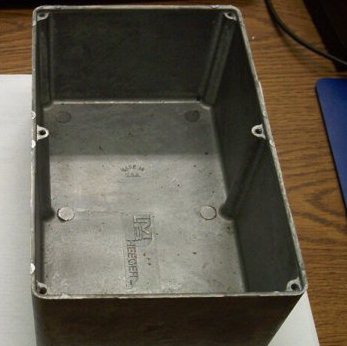 Picture an Aluminum Box Enclosure sitting on a table with the open side up. The aluminum box is 2 inches deep inside with the height and width 4 inches each way on outside. The walls of the box are 0.10 inches thick. Due to the wall thickness. A few things are evident to a part designer concerning this simple box:
The overall height of the box is 2.10 inches tall.
The interior of the box at the top of the opening is 3.80 inches x 3.80 inches.
A 2 degree draft angle will change the dimensions in the following on the interior and exterior and should be considered if something needs to fit inside the box or outside the box:
The top inside dimension of the box will be 3.80 inches and the bottom inside will be 3.664 inches
The top outside dimension of the box will be 4.00 inches and the bottom outside will be 3.864 inches
If the box was designed for the interior of 4 inches x 4 inches at the bottom: box:
The top inside box dimension needs to be 4.136 inches
The outside top box dimension will be 4.336 inches.
What is a die casting draft angle's operation during die casting? Draft angles are simply incorporated inside of the die, making its opening wider than its base so that it can easily be ejected.
Do you need fast delivery for die casting parts?
Do you buy die cast parts and can use our die casting services?

Call us and let us know 818-982-9200.
Kinetic Die Casting Company 6918 Beck Avenue North Hollywood California 91605
www.kineticdc.com #diecasting #kineticdc #manufacturing @kineticdc #draftangle #enclosures
Kineticdc makes:
Automotive Die Casting Parts
Light Fixture Die Casting Parts
Consumer Products Aluminum Parts
Aerospace Die Casting Parts
This is the blog on the Kinetic Die Casting Company. Contact Kinetic Die Casting Company at 818-982-9200 or email us at sales@kineticdc.com. Use this webpage to request "die casting part prices" www.kineticdiecasting.com/replyform.html