What sensation aluminum has become in the hardware market is no secret. The metal and its derivatives are being widely being used in not only huge companies such as automobiles and aeronautics but also in small scale usage such as boxes and enclosures for mundane activities. Here is guide to the benefiting properties which make aluminum a favorite over its other metal and alloy counterparts, especially when it comes to boxes and enclosures. This article would also successfully hope to throw light on different purpose for which the boxes are being manufactured for.
DURABILITY
As of now, Aluminum is the most durable and its product the most stable, as compared to any other metal and its products if gauged on the scale of practical use. The aluminum boxes and enclosure, whether big or small are highly resistant to corrosive reactions and this one property is largely responsible for aluminum's long life span.
PROTECTS THE STORED MATERIAL
Also, Aluminum alloy and the derivatives obtained from it have a very low reactivity when they come in contact with air. There may be many elements and metals which are much lighter and durable than aluminum but lose out because they react vigorously when kept in the atmosphere. These highly reactive metals cannot be used to make something for casual use like normal boxes. Aluminum, being low on reactivity protects the stored material inside form reactants and attacks from outside.
LIGHTER AND GOOD TEXTURE
Furthermore, Aluminum is very light as compared to other alloys/metals. This is one reason that huge enclosures which to be transported over long distances are made out of aluminum so that loading and unloading is a much easier task.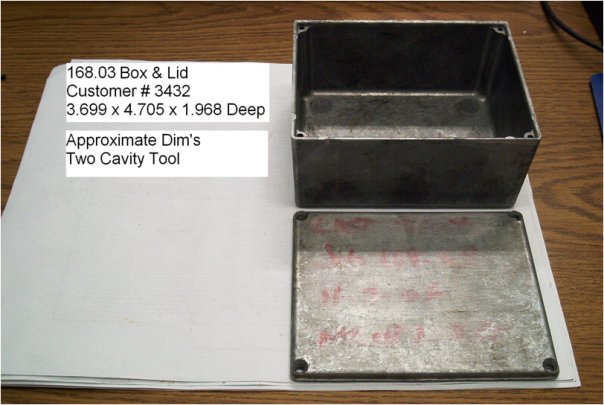 Die Casting Aluminum Box Parts
Kinetic Die Casting Company makes aluminum die castings as Die Casting Aluminum Boxes. As a Die Casting Company, we make these parts every day and ship thousands of these aluminum die casting every week.
Contact us to get die casting prices https://www.kineticdiecasting.com/replyform.html.
Kinetic Die Casting Company
6918 Beck Avenue
North Hollywood, California 91605
Sales@kineticdc.com
Die Casting Boxes and Enclosure Die Castings
Die Casting Box Parts
Kinetic Die Casting Newsletter Articles
Die Casting Parts Draft Angle
Die Casting Box Pictures

Kinetic Die Casting Company 6918 Beck Avenue, North Hollywood, California 91605 USA
E-mail sales@kineticdc.com Toll Free: (800) 524-8083 Local: (818) 982-9200 Fax: (818) 982-0877
Die Casting Box Prices